CAMPEONATO DE MUS DE BRISBANE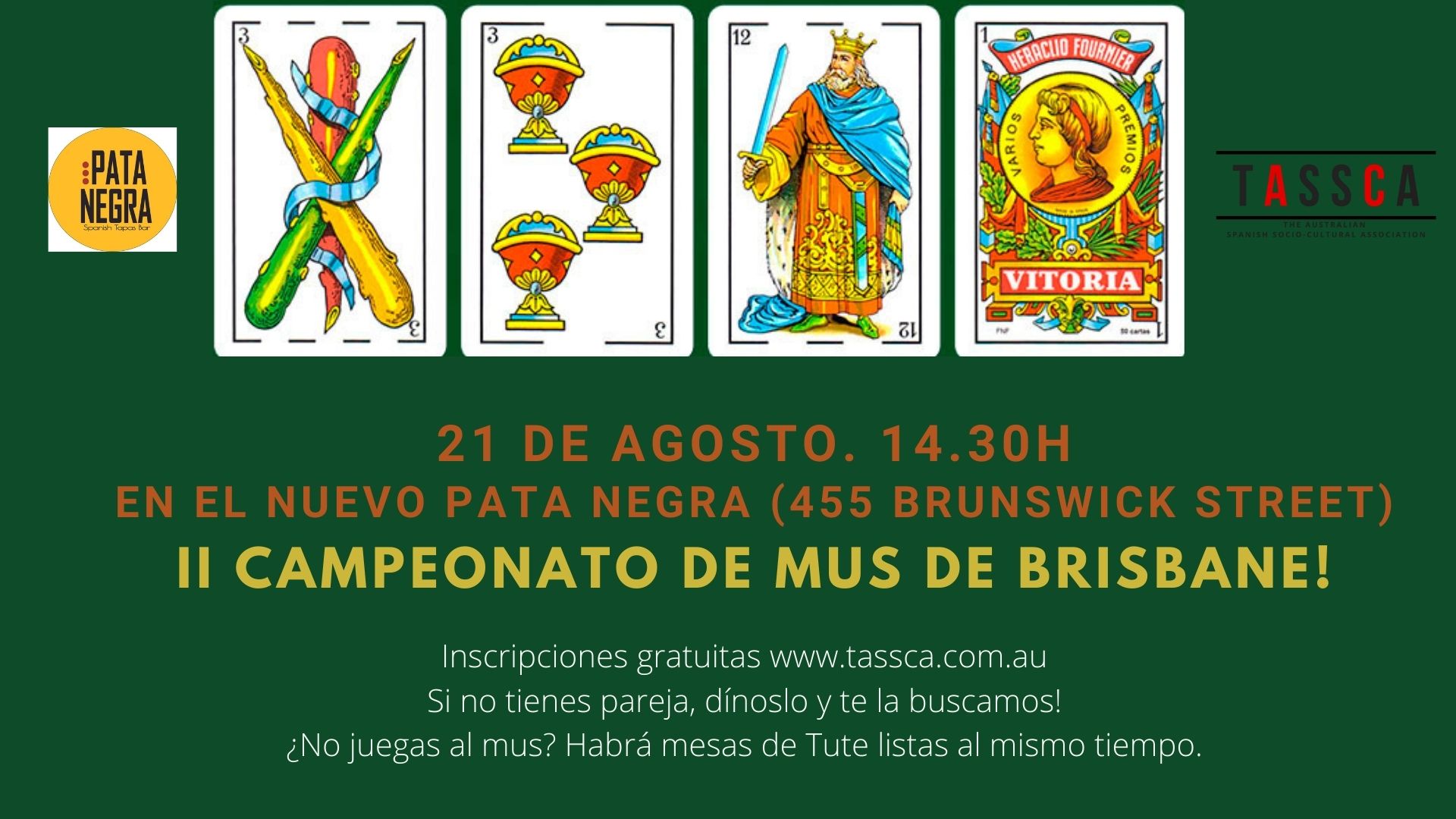 21 August
@
2:30 pm
–
7:00 pm
TASSCA organiza el campeonato de mus de 2022 en la tarde del domingo del 21 de Agosto a las 2:30 en el bar Pata-Negra.
Las reglas son las mismas que las del campeonato pasado: Reglamento
La inscripción es gratuita.
Si quieres participar y tienes ya una pareja puedes registrarte a ti y a tu pareja en esta tabla:
Si no tienes pareja pon tu nombre solo en la tabla y luego puedes contactar a las personas que aparezcan sin pareja en la tabla y poneros juntos o bien la organización te pondrá en pareja con otra persona.
¡Si tienes baraja, amarracos o tapete tráetelos!
Se agradecería que no esperases al último día para apuntarte a fin de facilitar la organización del evento y la reserva en el bar Pata Negra
En caso de dudas contactar a Irene (0474206938, (irene@tassca.com.au)
---
Tassca organizes the 2022 mus championship on the afternoon of Sunday, Sunday 21 August at 2:30 at the Pata-Negra bar.
The rules are the same as those of the last championship: Rulebook
Registration is free.
If you want to participate and you already have a partner, you can register yourself and your partner in this table:
If you don't have a partner, put your name alone in the table and then you can contact the people who appear without a partner in the table and put you together or the organization will put you in a couple with another person.
If you have cards, amarracos or a mat, bring them!
It would be appreciated if you did not wait until the last day to sign up in order to facilitate the organization of the event and the reservation at the Pat Negra bar.
If you have questions contact Irene (0474206938, (irene@tassca.com.au)
Free
CAMPEONATO DE MUS DE BRISBANE