Clases de Flamenco / Flamenco classes
Recurring event
see all
16 October
@
10:00 am
–
11:30 am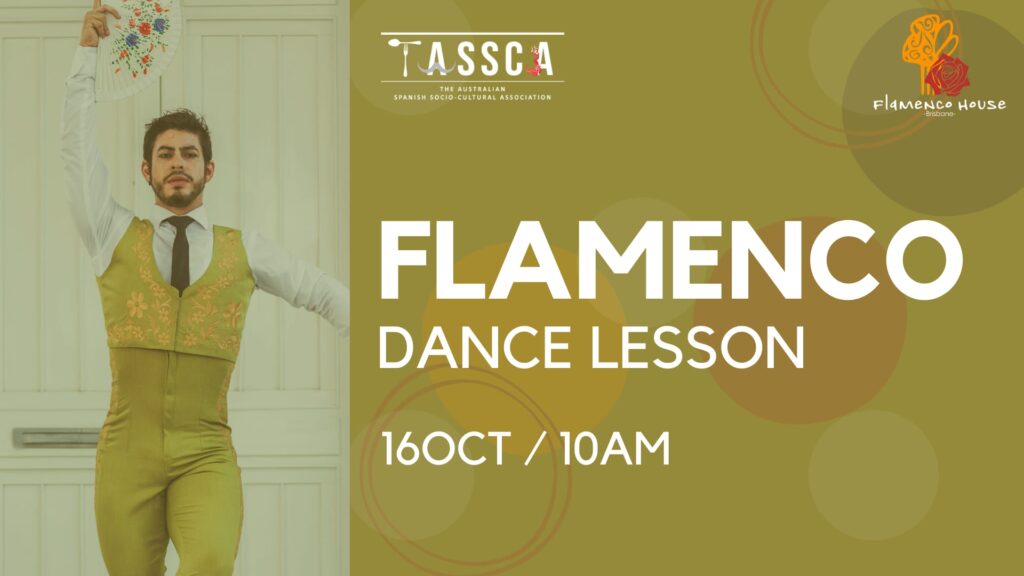 Con el fin de la difusión de la cultura a través de la Danza, TASSCA y Flamenco House – Brisbane, presentan: Clases de Flamenco.
En un ambiente amigable y divertido, aprenderemos un poco de la técnica básica del flamenco, un poco sobre su historia, influencia e impacto a nivel mundial y armaremos una coreografía del ritmo o "palo" flamenco que estudiaremos en la lección.
Y para ello tenemos el placer de contar con el mejor profesional del Flamendo de Brisbane, Diego Pérez, de Flamenco House.
Las clases van dirigidas a personas con o sin conocimiento previo de flamenco, mayores de 12 años, que buscan explorar nuevos estilos o simplemente para pasar un buen rato. ¿Estáis listos para despertar a bailaor o bailaora que lleváis dentro?
In order to disseminate culture through Dance, TASSCA and Flamenco House – Brisbane, present: Flamenco Classes
In a friendly and fun atmosphere, we will learn a little about the basic technique of flamenco, about its history, influence and impact worldwide and we will put together a choreography of the flamenco rhythm that we will study in the lesson.
To get there, we have the pleasure of having the best Flamenco professional in Brisbane, Diego Pérez, from Flamenco House.
The classes will focus on people with or without previous knowledge of flamenco, 12 years old and over, who seek to explore new styles or simply to have a good time.
Are you ready to show us the bailaor or bailaora in you?