29 August 2021
@
3:00 pm
–
7:00 pm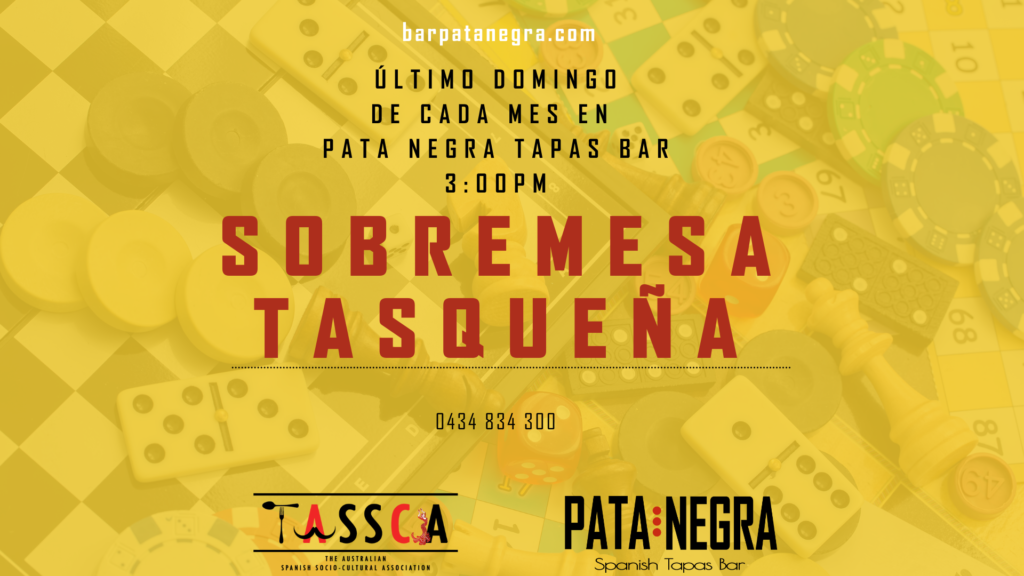 Spanish (English below)
Este nuevo programa comenzará el 29 de agosto de 2021 y se llevará a cabo el último domingo de cada mes, a las 15.00h en el restaurante Pata Negra. El objetivo es juntarnos para una típica sobremesa dominguera. Tráete tus juegos de mesa, cartas… y elige compañeros de juego para cada tarde. ¡Por supuesto, todos los públicos están invitados! Y no hace falta ser miembro de TASSCA (aunque te animamos a ello, para seguir impulsando y disfrutando de nuevas ideas y proyectos juntos para toda la comunidad española).
Además, Pata Negra ofrece un menú especial para estas quedadas.
English
This new program will begin on August 29, 2021 and will take place on the last Sunday of each month, at 3:00 p.m. at the Pata Negra restaurant. The goal is to catch up for a typical Sunday after-lunch. Bring your board games, cards … and choose playmates for each afternoon. Of course, all audiences are invited! And it is not necessary to be a member of TASSCA (although we encourage you to do so, to continue promoting and enjoying new ideas and projects together for the entire Spanish community).
In addition, Pata Negra offers a special menu for these hangouts.