The Ambitious DALI: Art Exhibition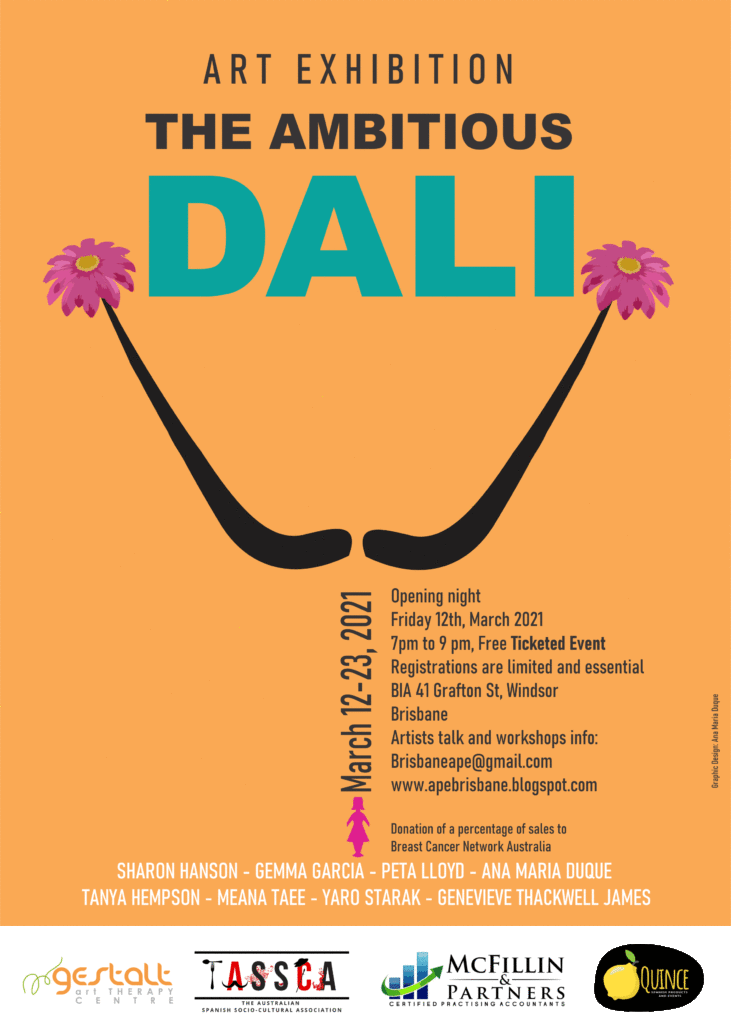 20 March 2021
@
11:00 am
–
12:00 pm
(English below)
Gracias a TASSCA y APE (Art Performance and Exhibitions), estás invitado a la exposición de arte "The Ambitious DALI" como un V.I.P. Así es como todos juntos apoyamos nuestros proyectos comunitarios.
Esta extraordinaria exposición te mostrará cómo los eventos globales han influido en las creaciones de los artistas, al estilo de Salvador Dalí. Cada artista ha representado bajo el prisma de su visión quién es Salvador Dalí y también representa el impacto social que ha experimentado toda la población en estos tiempos de incertidumbre en Australia y en todas partes. ¡Dalí era surrealista! y esto es ahora de manera metafórica, cómo es la situación en nuestro planeta debido al COVID-19.
Si eres un apasionado del arte, las nuevas tendencias, la "psique" de los artistas con sus creaciones metafóricas, si quieres sumergirte en una nueva dimensión artística, entonces, no debes perder la oportunidad de visitar la exposición.
Deberás ser miembro de TASSCA para acceder a estas entradas. Limitadas a dos entradas por miembros hasta fin de existencias.
También puedes reservar entradas para el 14 de Marzo en este link.
Thank you to TASSCA and APE (Art Performance and Exhibitions) you are invited to "The Ambitious DALI" Art exhibition as a V.I.P. This is the way that, all together, we support our community projects.
This extraordinary exhibition will show you how the global events have influenced the creations of artists, in Salvador Dali style. Each artist has represented under the prism of their vision who Salvador Dali is and also represents the social impact that the entire population has experienced in these times of uncertainty in Australia and everywhere. Dali was a Surrealist! and this is now in a metaphoric way, how is the situation in our planet due to COVID-19.
If you are passionate about art, new trends, the psyche of artists with their metaphorical creations, if you want to immerse yourself in a new artistic dimension, then, you should not miss the opportunity to visit the exhibition.
you will need to be logged-in as a TASSCA member to access these tickets.
You can also book tickets for the 14th of March on this link.