Cabalgata Reyes Magos 2022
3 January
@
5:00 pm
–
9:00 pm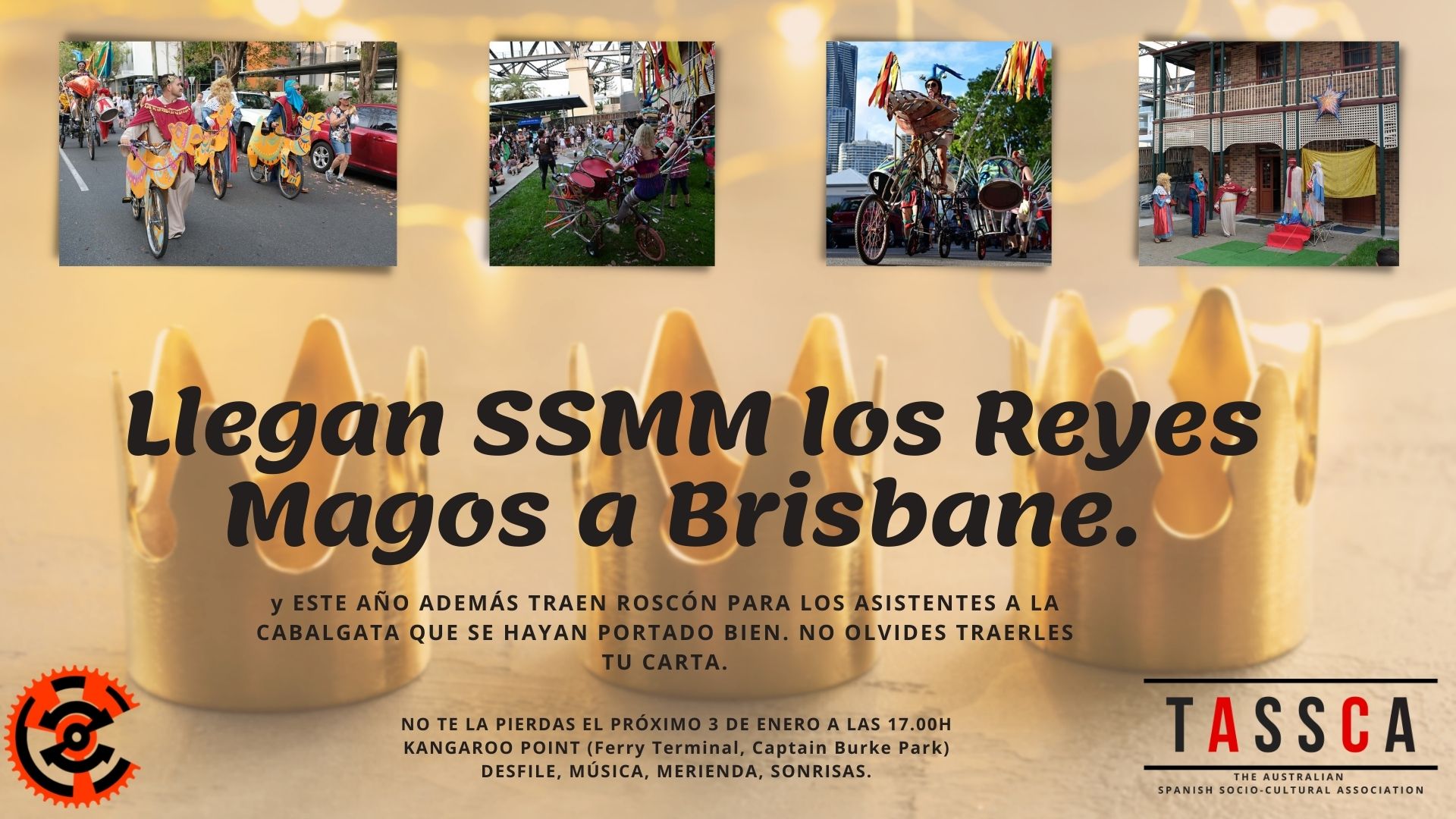 (English below)
Un año más, ven a celebrar la llegada de Sus Majestades los Reyes Magos de Oriente con TASSCA, debajo de uno de los puentes más importantes de Brisbane, el Story Bridge.
Según nos hemos enterado, vendrán en Ferry, por lo que quedaremos a las 17.00h en Ferry Terminal, Captain Burke Park, para acompañarlos a buscar la estrella que nos guíe al portal, donde seguiremos con música,colores, merienda, risas… ¡y podremos dar nuestras cartas a los Reyes! Este año, parece ser además, que… ¡nos traen roscón para celebrar su llegada juntos! ¿Te unes?
Para que este día sea lo más especial posible para todos, nos gustaría contar con tu colaboración en la organización del evento. Por favor, ponte en contacto con nosotros si te apetece colaborar (montaje, disfraces, personajes, venta y todas las ideas que se te ocurran…)
---
One more year, come and celebrate the arrival of The Three Wise Men with TASSCA, under one of the most important bridges in Brisbane, the Story Bridge.
As we have heard, they will come by Ferry, so we will meet at 5:00 p.m. at Ferry Terminal, Captain Burke Park, to accompany them to look for the star that guides us to the portal, where we will continue with music, colors, snacks, laughs … and we can hand in our letters to the Kings! This year, it also seems that… they will bring us roscón to celebrate their arrival together! Are you in?
To make this day as special as possible for everyone, we would like to have your collaboration in organizing the event. Please, get in touch with us if you want to collaborate (assembly, costumes, characters, sales and all the ideas that you can think of …)
Event Price
Free
Sponsored by TASSCA and The Spanish Embassy in Australia.
Meeting Point
Organizers
Sponsored by